Front of building as seen from Highway #3. Apartment stairs on right.
Parking in front and on both sides of building
View of large parking area on the east side of the building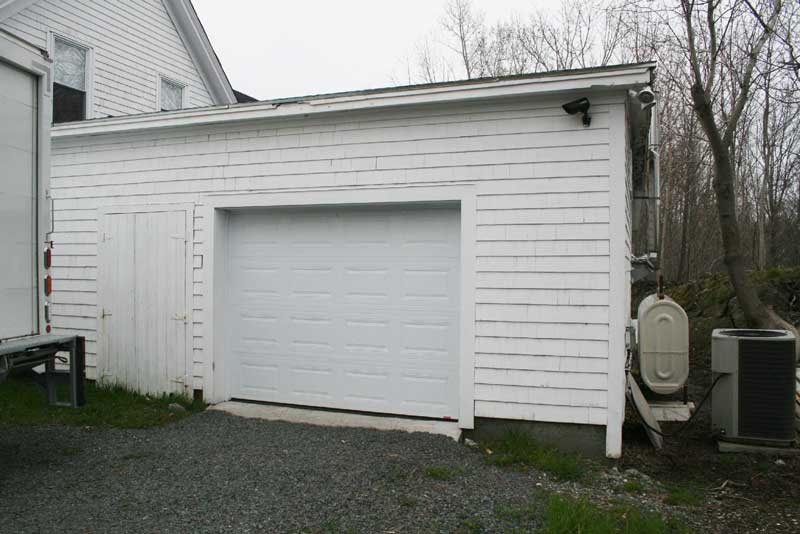 Garage door on west side of the building
Interior of warehouse storage area
Another view of large warehouse storage area
Office/warehouse property with rental unit above - perfect combination of multi-functional commercial space, plus additional rental income.
Located next to Port Mersey Commercial Park, the office/warehouse property is ideally situated to cater to Port Mersey tenants, as well as businesses and residents of the nearby town of Liverpool.
Property Details
Price: $149,000
Lot: 11,921 Sq. Ft; .2737 acre; 1,107 sq meter
Zoning: Commercial
Tax rate: low commercial taxes
Ground floor: office/retail space facing the road (with washroom), plus multiple large storage areas with loading bay area in back. Several upgrades completed including insulation.
Apartment (upstairs): completely renovated: 3 bedrooms, 1 bathroom (shower, vanity, toilet), eat-in kitchen, living room, laundry area
Services available: power, phone, high-speed Internet (fibre-op), municipal water and sewer
Heating: oil heat, supplemented by heat pump on main floor
Air conditioning: heat pump on main floor
Parking: ample parking for commercial use and residential tenant
Brooklyn: a 2 minute drive to town of Liverpool, Nova Scotia
Local amenities include: shopping, grocery stores, banking, pharmacies, theatre, restaurants, library, marina, recreation centre with gym and ice rink, hospital, emergency services unit, new middle school
Outdoor recreation opportunities include: kayaking, swimming, biking, beachcombing, golfing, surfing to name a few.
Photos of Apartment
Apartment bathroom with skylight
Kitchen area
Kitchen counter, window and eat-in area
One of the three bedrooms
Second of the three bedrooms
Laundry area next to bathroom
Photos of Apartment: 3675 Highway 3, Brooklyn, NS
Living room with large bay window
Eat-in Kitchen Area in apartment
Third bedroom of the three bedrooms
Google Map